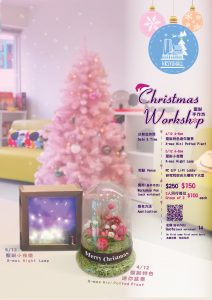 Ready for Christmas?! 🎄🎉🎁
Christmas is coming to town.
Get ready to pick Christmas presents for friends and love ones?
Hall Management Unit has prepared two Christmas workshops to make your own Christmas presents.
1) Xmas Mini Potted Plant workshop (Dec4 4-6pm)
2) Xmas Night Lamp workshop (Dec5 4-6pm)
The original workshop fee costs $250 for each workshop
and NOW only costs $150 (Group of 2 only $100 each). (Quota for each workshop: 14)
Feel free to join our Christmas workshop and share your love to your beloved ones.
聖誕佳節就黎到,宿生們有冇為左買咩禮物而大傷腦筋呢?
今年HMU就為大家準備左以兩個聖誕手作坊,自製精美小擺切作聖誕禮物。
1) 聖誕特色迷你盆景手作坊 (4/12 4-6pm)
2) 聖誕小夜燈手作坊 (5/12 4-6pm)
聖誕手作坊每個原價係$250,而家每個只需$150 (二人同行優惠每人只需$100) 就可以參加。 (各手作坊名額 14人)
歡迎各宿生帶埋宿生朋友,親手做一份窩心既聖誕禮物俾各位既摯愛啦 !