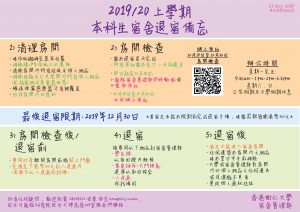 Please kindly be reminded that with One Semester residency or Whole Year residency but did not pay Semester Two hall fee, residents are required to get room inspection by the staff of HMU and check-out procedures in the HMU office done by 30 December 2019. In order to reduce waiting time for room inspection and check-out, HMU is going to introduce the arrangement as follows:
The HMU will be closed from 31 December 2019 to 5 January 2020 (both dates inclusive). That implies at least HK$3,500 (HK$500 per night x 7 nights) will be charged for late check-out if you do not complete the check-out procedures and move out from the dormitory by 6:30 p.m. on 30 December 2019.
You must take all the belongings away from your room, resume your room to the original setting and get the room inspection done on the check-out day.
From now on to 18 December 2019, you may walk-in to the HMU office for room inspection during office hours. One-working day-in-advanced appointment by email (with your name, student number, residential building and room number included) to hmu@hksyu.edu is also welcomed. The booking will be confirmed by the HMU through email.
From 19 to 30 December 2019, room inspection time must be reserved by submitting the form https://www3.hksyu.edu/eform/view.php?id=314742 at least one working day in advance. Appointment is arranged according to the basis of first come first serve. You have to come to the HMU office for inspection within the confirmed time slot.
You are required to add at least HK$100 to your Octopus card for giving change to the HMU. Upon room inspection, please proceed to the HMU office at RHB208 with your student card, Octopus card, desk drawer and door key (if applicable) for the last few steps of student halls check-out (i.e. returning the drawer/ door key, taking deposit and balance in the student card).
Once the check-out process is done, in normally circumstance, you will not be allowed to enter the hall area and your room as a resident with immediate effect. Any personal property left in the room will be disposed by 12 noon of the next day. The University or HMU is not responsible for any losses or damages of personal items left in the room.
Special request must be sent via email to hmu@hksyu.edu on or before 22 December 2019. Any request after 22 December 2019 will not be accepted.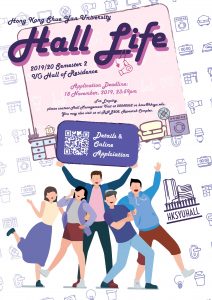 Application Notes of Undergraduate Residence (For Current Students)
Application Period (DD/MM/YYYY):
05/11 – 23:59, 18/11/2019